Bio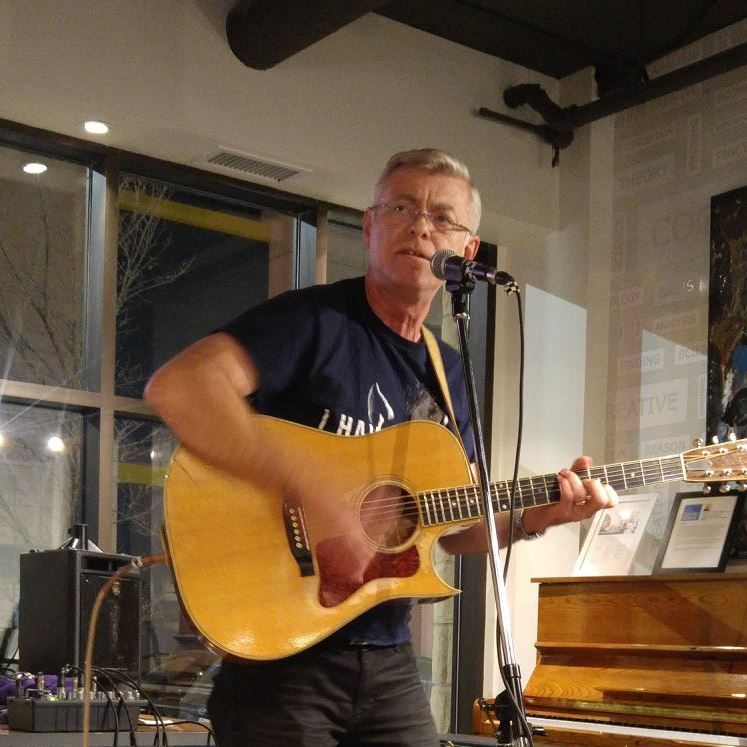 Brian Volke
Music
He's been called the Jimmy Stewart of Songwriting. He was once told that when he played guitar, he grew two feet. He has been called "a true Canadian 'folksier"...showing the fabric of the people living in Canada that he meets" and sharing his "endless creativity, acceptance and passion".
A folkie yes, but a rocker at heart.
Music has always been at the core of Brian's heart.  His father took him to see Johnny Cash when he was young.  Then there was Elvis.  Along came the Beatles, the Monkees and being a teenager in the Seventies-the Who and Led Zeppelin.  Later Bruce Cockburn provided the transition from rock to folk and then to Celtic music.
He's been playing guitar since the age of nine and writing songs since Grade Six when he formed his first band in Regina, Saskatchewan. Fast forward to the early 90's.  Brian and his friend Neil Slater teamed up to form Celtic Clutter. Together they made a self-titled EP which features the song "Dragons Fly", a song that many consider to be one of Brian's best.  He still performs it today.
The Clutter performed at festivals and venues around southern Saskatchewan.  Moving to Calgary in 1998, Brian formed the Celtic band Tir Na N'og and made a full-length CD entitled Home Again.  Later a name change, and the newly -christened My Son Ted produced another CD, Carmel's Parlour in 2014.
Possibly one of the most profound influences for Brian is the songwriting workshop SongStudio, located in Toronto, Ontario. Held every July, Brian has attended seven workshops since 2012. His songwriting has grown by leaps and bounds.  And, he got to meet guitar legend Rik Emmett.  Bonus!
Brian lives in Calgary, Alberta with his family.  He sings and writes songs that are varied and eclectic, reflecting the variety of styles and types of music that he has absorbed over the years: rockabilly, Celtic, rock, folk, folk-rock, Reggae and Island music, to name a few. He is currently working on an album of songs that are catchy, uplifting, energetic, sometimes nostalgic, sometimes introspective slices of life. His perspective of the world is rooted in silent observations. The new album will feature plenty of interwoven acoustic and jangly electric guitars, bass, drums and background vocals. 
Brian often considers himself a child of the Beatles because "they have had a profound influence on me since a very young age. " 
Art
Brian holds a Bachelor of Fine Arts Degree from the University of Regina.  He majored in painting and has been working in oil, watercolour and acrylic for the last thirty five years.  An urban landscape realist, Brian has always been drawn to the effects of sun and shadow in an existential, gestalt "Here it is", "This is it!" type of view. Brian has paintings in the Canada Council Art Bank, the Saskatchewan Arts Board, the City of Regina, SaskPower and Sasktel, as well as numerous private collections.